Click here to download a detailed description of NCAPPS Learning Collaboratives
NCAPPS Learning Collaboratives bring together "teams" from States, Territories, and Tribal human services agencies to engage in peer-to-peer learning. They provide a framework for teams to learn about, test, and implement specific systems change efforts focused on a global aim. They are guided by best practices and structured to promote and accelerate local efforts.
Learning Collaboratives will be operating for a 12 to 24 month duration, depending on the topic and framework. During that time, teams will have 3 days of dedicated video conference "Learning Sessions" to learn the framework, form implementation teams, share information, and chart progress. They begin with a global aim and a framework developed by a panel of experts. Teams learn the framework and then develop their own local aim based on the global aim. They select specific strategies from the framework to implement and test, along with measures that will help them to know if what they're doing is leading to the desired results. Between the Learning Sessions, the teams conduct 'tests' using Plan-Do-Study-Act (PDSA) cycles. Teams will report data on their progress back to NCAPPS to support ongoing learning and understanding. In later Learning Sessions, teams will identify strategies for longer-term sustainability of systems change efforts.
For example, with the overarching goal of increasing self-direction, teams may apply one or more strategies involving participant outreach and education, support coordinator education, peer supporter partnerships, or the development of the network of support providers. When testing these strategies, the teams will measure against identified benchmarks (e.g., self-direction enrollment).
For topics for which practices are still in development and for which there is no clearly defined 'best practice', the Collaboratives encourage teams to identify and test various approaches locally. For example, for enhancing access to person-centered planning and supports for people with brain injury, teams will participate in developing ideas through local 'tests'. Using PDSA cycles, they'll test opportunities for developing community and eligibility-based supports, and for increasing participant engagement in planning processes.
Interested in joining a Learning Collaborative? Please send us an email to receive updates, including invitations to participate as they are available.
Current Learning Collaboratives
In self-direction, people allocate funds from a personalized budget to meet their long-term service and support needs using a person-centered planning process, with facilitation from a specially trained staff person and representative if desired. Every state offers some form of self-direction to people with disabilities and older adults with long-term service and support needs. Yet, take-up has not been as expansive as advocates envisioned, and some populations have very limited access to this model.
In response to this, NCAPPS launched the Self-Direction Learning Collaborative (SDLC) in April 2022. The SDLC brings together 23 teams representing 16 states over the course of 17 months to learn about, test, and implement specific systems change efforts focused on the global aim of enhancing the availability, quality, and access to self-direction.
Each team has chosen one or more focus areas to pursue including: disseminating information regarding self-direction, its benefits and how it works; developing self-direction policies and procedures that are equitable, transparent, flexible, and easily understood and implemented; enhancing infrastructure to support self-direction; and recruiting and training Direct Support Professionals, support brokers, and peer mentors to support self-direction.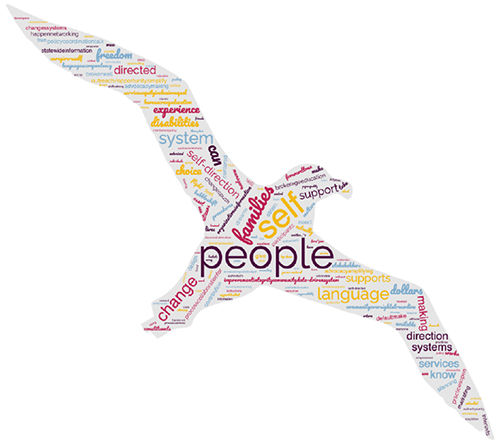 ---
In partnership with Michael Smull and colleagues at Support Development Associates (SDA), NCAPPS launched the Beyond Compliance Leadership Learning Collaborative in January 2022 for human service administrators and leadership in advocacy and provider organizations interested in building person-centered practice and knowledge throughout their agencies. The Learning Collaborative is grounded in the 9 Elements of a Person-Centered System framework created by Michael and his partners at SDA which describes a person-centered system as nine elements working in concert.
Over the course of ten sessions, participants will be introduced to the 9 Elements and be better equipped to:
Leverage positive pressures for change (for example, meeting both the requirements of the HCBS Final Rule as well making changes that promote the intent behind the Rule).
Align systemic processes and practices to create a person-centered system. For example, ensure assessment and planning and service plan monitoring all include a focus on the person's preferences
Lead and influence change within their organizations and systems.
---